The importance of a whole school approach.
'In a whole school approach, wellbeing and mental health are everyone's business,' with genuine engagement across the entire community: staff, pupils, governors, parents and external services. The approach involves multiple components including early identification and intervention; staff wellbeing and development; and skills-based work for pupils, but above all it adopts a positive and universal focus on wellbeing.
Why have a whole school approach?
Improved pupil wellbeing
Improved staff wellbeing and retention
Improved academic learning
Strong link to improving school's overall effectiveness
Development of social and emotional skills
Prevention of MH problems
Improved school behaviour - reduction in fights, bullying, exclusions and absence.
Image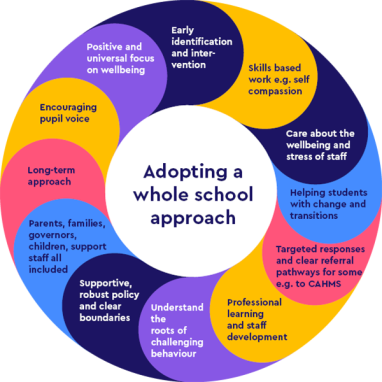 The Partnership worked with Professor Katherine Weare, who developed an evidence-based guide on what 'works in promoting social and emotional wellbeing in schools' and provides guidance on how to embed a whole school approach to mental health and wellbeing.
This and other resources for schools can be found below.