We are delighted to be working with the London Borough of Lewisham to deliver Making it REAL as part of a three-year funded early literacy programme between 2021 and 2024.
Funded by a grant from the Charity of Sir Richard Whittington (for which the Mercers' Company is corporate trustee) and in partnership with Lewisham local authority, this ambitious three-year programme aims to deliver Making it REAL across the borough, ensuring all pre-school children benefit.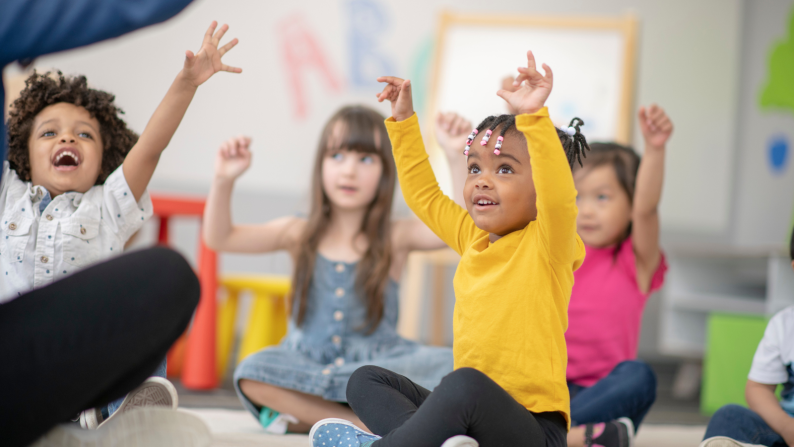 The programme
Making it REAL (Raising Early Achievement in Literacy) is an award-winning programme that trains and supports practitioners to develop children's early literacy. The programme helps practitioners to build parents' knowledge and confidence so that they can support their children and create a positive early home learning environment.
Sharing REAL with Parents aims to build parents' confidence in how they can support literacy within the home and help their children's learning and development in communication and language.
Our approach
Working in close partnership with Lewisham local authority, local providers and families, through the three-year programme:
every early years setting in Lewisham will be offered introductory training in the Making it REAL approach

60 settings will receive in-depth training and support to deliver the Making it REAL programme directly with families

'Sharing REAL with parents' workshops will be available to parents with pre-school children

there will be the opportunity to attend network events and workshops to support practitioners to embed the approach
At the end of the three years, our ambition is for Making it REAL to be truly embedded within the borough of Lewisham, leaving a sustainable legacy to support young children in Lewisham and providing an evidence of what can be achieved through an authority wide approach.
If you would like more information about the programme contact [email protected]
If you work in an early years setting or as a childminder in Lewisham, please visit Making it REAL Lewisham  for more information on what's happening and when.
Invitation to quote: Making it REAL Lewisham Programme Evaluation
The National Children's Bureau (NCB) is seeking a suitably qualified and experienced academic partner to undertake an evaluation of the Making it REAL Lewisham Programme (2021-2024), to be conducted during Year 3 of the programme (September 2023 - August 2024).
The broad aim of this evaluation is to assess the impact of Making it REAL in improving communication, language and literacy outcomes for pre-school children, and how effectively Making it REAL has been embedded across the borough of Lewisham. The evidence from this evaluation will contribute to Making it REAL's existing evidence base and used to inform future planning for similar programmes.
Please download the attached PDF 'Invitation to quote – Making it REAL Lewisham Programme Evaluation' below, with all the relevant information about the evaluation and the application timescale.
Closing date for proposals:

Friday 1st September 2023