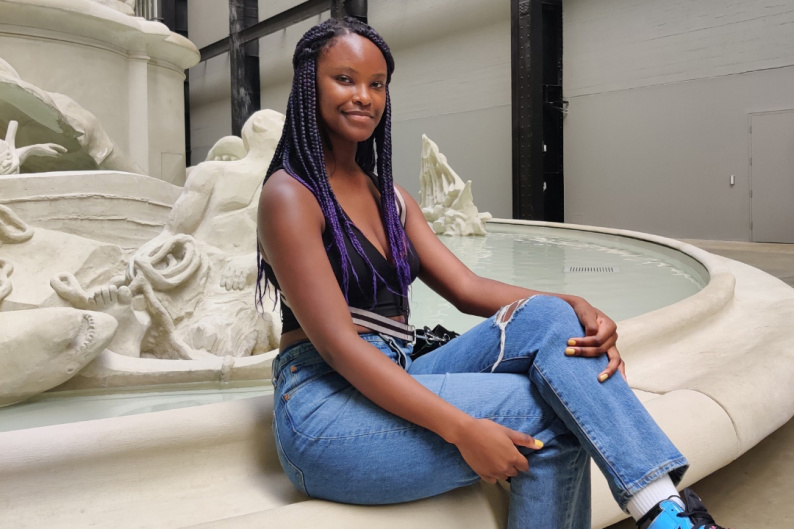 Having been involved with NCB for many years, Tutu's curiosity led her to become a Young Representative to the Board, to take a closer look at how the charity operates.
I've been working with NCB for a long time. In my teens in Lancashire I did a lot of local youthwork. I was growing out of that and looked on Google for children's charities to be involved with. I found NCB and filled in the online form to join.
I first got involved with the Young NCB advisory group and the Anti-Bullying Alliance. Over the years I did a few things like helping to develop the campaign for Anti-Bullying Week. I have also helped out at events, behind the scenes or representing young people. It's been overwhelmingly positive, and NCB is really nurturing.
I met one of my closest friends, Priyanka, through Young NCB. We're still best friends now, even though I'm in Norwich and she's in London. Her older sister Thivya is now a Board member. It was curiosity that led me to become a Young Representative a few years ago. I'd done a lot of work with different parts of NCB over the years, but I hadn't spent a lot of time with the senior leadership team. I was interested in Anna (NCB's chief executive) in particular, who is an amazing woman from my experience. I wanted more insight on what went on behind the scenes. I do enjoy seeing the back end of things. Many people see the end product, but seeing how decisions were made, what was taken into consideration, the vast amount of research that was done. That was interesting to see.
Since I've joined the Board as a Young Representative, I've enjoyed seeing the business side of running a charity, especially with the marketing and the re-branding, it's constantly updating and adapting.
Mental health has been such a big issue for quite a while. NCB devotes a lot of time and energy to addressing that issue.
If I could make one change that I think would make a huge difference, I'd love there to be a place online for young people to go to talk – like easy access to online therapy I suppose.
I remember discussions about diversity of the children and young people that NCB supports, but how this diversity isn't so well reflected in the people who actually work for NCB. When we discussed this at the Board, I was coming mostly from a position of listening. I knew that my voice would be heard, but I wasn't sure about how I could contribute, especially when it comes to knowledge and experience about HR processes, for example. It's been good that the Board is self-aware and looking at those issues and actively recruiting new Trustees to address this.
It's been really good for me to be part of the conversation, and have a seat at the table. Because of who I am, and because of my age, I wouldn't have imagined being part of these conversations at this stage of my life.
It's also been great to have access to all kinds of different people. I know that if in future I wanted to move into certain jobs I would have guidance from some of the people I've encountered through the Board.
It's like a double plus – I'm so heavily interested and invested in NCB's future, so I get all these benefits when actually I'm just happy to be there representing young people.
I'm in my final year at uni, so there's a lot up in the air at the moment. I'm open to anything that I care about – from working with NCB to continuing biochemistry and going into research sciences, banking, marketing – I still have a passion for business and am interested in that area. I don't have a single route in mind at the moment.
The last year has been challenging, I've had my ups and downs. Having a pause in a lot of things has given me a chance to think about what makes me happy, what I give meaning to within my life. It's made me realise how important certain things are to me, like my role in NCB, I really value that and have really valued being part of all the meetings.