Over 200 invited guests from across the children's sector gathered in Westminster on Monday 25th September to hear Dame Christine Lenehan give a stirring valedictory address to mark her retirement.
Over 200 invited guests from across the children's sector gathered in Westminster on Monday 25th September to hear Dame Christine Lenehan give a stirring valedictory address to mark her retirement after nearly 40 years of tireless work to creative an inclusive society for all children and young people.
Dame Christine, who formally steps down from her roles as Director of the Council of Disabled Children (CDC) and Strategic Director of Practice and Programmes at the National Children's Bureau (NCB) on 29th September, reflected on a career that has had a profound and lasting impact on the lives of many children and young people and the systems that support and surround them.
A hugely influential champion of the rights and needs of children and young people, particularly those with special educational needs and disabilities, Dame Christine has been a key figure in the development and impact of CDC and NCB. She became Director of CDC in 2003, having joined NCB in 2000 and was awarded an OBE in 2009 and a Damehood in 2016 in recognition of her outstanding work.
The concluding words of her speech were greeted with a rousing standing ovation from the audience that included civil servants, parliamentarians, funders, supporters, colleagues past and present and friends and family and she was given a second, possibly even longer and louder, ovation at the very end of the evening.
The celebratory event at Central Hall Westminster began with warm introductions and tributes from NCB CEO Anna Feuchtwang and the Minister for Children, Families and Wellbeing David Johnston and concluded with more glowing words of gratitude from Director of Special Educational Needs and Disability and Alternative Provision at the Department for Education Alison Ismail and a young person at the heart of NCB's work Carys Hoggan.
Christine's unique contribution has been built on her ability to bring different people and different parts of the system together to create real change in the lives of children and families.
David Johnston MP, Minister for Children said: "She was one the first people I met [since taking this post] and I took an immediate liking to her for two reasons: 1. She's very straight talking and 2. Every bit of advice she gives, in whatever meeting she's in, is always religiously focused on the needs of the child and the family. If anything is discussed that is not in their best interests, she will say so. And that's exactly the sort of advice you need."
Alison Ismail, Director of Special Educational Needs and Disability and Alternative Provision at the Department for Education, said: "She's been a genuine role model in active listening, she focuses on what can be done…she's been an exceptional person to work with."
Carys Hoggan, FLARE member and young person with experience working with NCB and CDC, said: "[CDC and Christine have] made me who I am today... young people in this organisation are not a tick box... I am so grateful to be part of something that has never made me feel anything less than valued."
But the night belonged to Dame Christine Lenehan, who shared her wisdom and insights from a remarkable career with her assembled guests, reflecting on her journey and looking ahead to the future.
She began by talking about her own humble beginnings, growing up "determined and strong in an environment that didn't reward poor children… and with a sense of injustice and anger". Her first opportunity to channel this anger and passion, she said, came as a teenage volunteer in long-stay mental illness hospital, where she listened with horror to the stories of injustice and lack of understanding endured by patients and their families.
Having begun her career as a residential social worker, because she "wanted to understand how lives were lived", Dame Christine had her first experience of working in multi-agency teams that brought together social workers with health professionals and others to share accountability and responsibility.
"I started to understand that there had to be a better way of doing things," she told the audience. "We were trying to fix bits of people's lives, but we weren't changing them properly… I realised that systems are not built on middle-class white families you had to build them for families of all cultures and all backgrounds."
She then worked for Barnardo's in Tower Hamlets for 15 years looking at how you set services up from scratch, based on an understanding of the communities that needed those services.
"I worked with poverty, politics and race," she explained, "taking the lessons from the outside about how you can build services that matter to communities, how you build services that deliver what people actually want… I got interested in where you have to be in a system to make the most difference."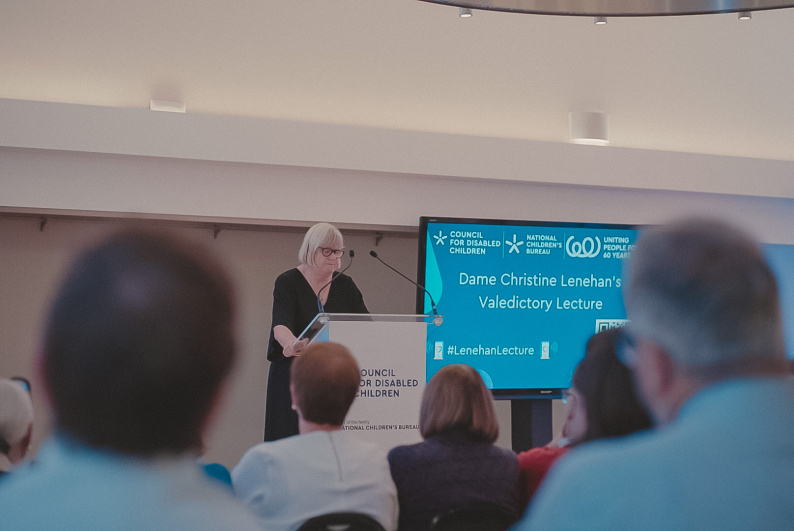 She lobbied for the 1989 Children Act – "a fundamental piece of law that brought disabled children for the first time into mainstream children's legislation" – and continued to work with the civil service and others across the sector, becoming a member of the Council for Disabled Children, which its then director Dame Philippa Russell (herself in the audience) asked Dame Christine to come and work for in 2000.
"I realised this was the part of the system where I could make the greatest change happen," she said. "I moved away from practice towards policy, but never lost touch with the lives of families."
Dame Christine then shared her learnings from her time with CDC and NCB. "I've learned that wherever you are in the system, the starting points are always different…. you have to be good at shuttle diplomacy… I've also learned that cultural change takes a very long time."
She explained how her team built in a section of the Children and Families Act 2014 on cultural change, which she said is "tough and hard, but worth the effort… at the heart of all we do, we work with people and we work on building trust between one and another."
"We don't always agree with each other, but we have to understand how to respect and how to work with difference and we have to hold our own."
She said she had asked herself the question: "How can I as a non-disabled person stand up, represent and advocate for the needs of disabled people? The people that told me to do that were disabled people themselves. They taught me how to be an ally, how to listen and to hear… we have to understand that each story is different and that it's not a single voice, it's a narrative that we have to work with."
She talked about the struggles that families have with the system that should be designed to support them, but can be often be difficult to access or understand for those that need it most. And she paid tribute to those working across the sector to create better lives and better childhoods.
"You have to work out how to stop people getting overwhelmed, break things into bite-sized pieces and take people on a journey that they know is worth taking…. and I've been really impressed with the resilience of the professionals I've worked with at all levels of the system…."
This is a system built on emotion and passion and every day people tell us their stories. Stories that are really, really important. And if you can't connect on a human level, you can't do this. You have to be listening, you have to relate, you have to understand… I want to work with humanity and humility. My success is built on the networks I make and the people I work with and the people that I listen to.
Lenehan Lecture, 25 September 2023
Dame Christine also talked about her work in safeguarding, where her influence and impact has been significant. "I've had to work with tragedy and abuse," she said, recalling her early work in a mental illness hospital where people were "locked away from society and treated with little humanity and dignity", an experience that she said was important in light of her work leading a review of the care of disabled children and young people with challenging behaviour and complex mental health needs commissioned by the Department of Health in 2017 and then being part of the Child Safeguarding Review Panel this year which looked into the appalling failings of three Doncaster residential homes.
It was really hard 40 years later, to watch that happen again. Children a long way from home, children whose communication skills were not recognised, children who had stopped being seen as human beings. When that happens, we fail. We fail when we forget that people have a right to be safe, secure and loved.
But for all the failures we've endured as a society and the challenges we continue to face, Dame Christine still believes in the power of positive thinking.
"It's not helpful just to think that the world is going to hell in a handcart because children and families continue to live their lives. We have to believe in positive change and we have to celebrate success," she said, highlighting the importance of the CYP Now and nasen sector awards. "Success is what keeps us going… if we do not believe positive change is possible, then it won't happen and our children and families deserve more than that."
As examples of positive change, she spoke about how much better we are at hearing children's voices and understanding their right to citizenship and how this was now at the heart of the system. She said there is now a strong vision about what we need to achieve and with the SEND and AP Improvement Plan there is a vehicle to make this happen.
She ended her speech with four wishes:
1. To be serious about change;
2. To keep pushing for children to be a priority in our health services, amid increasing complexity in the health needs of disabled children;
3. For the SEND change programme to recognise children with social, emotional and mental health needs;
and 4. To celebrate success across the sector and to share how working together will result in the change that we all want to see. 
In the new year, Dame Christine will return to act as a strategic advisor to NCB, which will include being the independent chair of SEND Improvement Boards in local areas.
Watch her speech below...